Virtual Reality Communication Lab
Indiana Tech's Virtual Reality Communication Lab was created to help you enhance your presentation skills for various public events and become a more refined and articulate speaker.
Why it's important
When it comes to career advancement, having effective public speaking skills is one of the truest arrows one can have in his or her quiver. Possessing such skills is indicative of sound leadership abilities, confidence, poise, professionalism and creativity—qualities that are extremely valuable when it comes to competing in the job market.
Yet as important as it is, public speaking is one of the greatest fear-inducing activities there is. According to the National Institute of Mental Health, public speaking anxiety, or glossophobia, affects about 73% of the population.
How it works
Users wear Oculus Quest VR headsets and hold hand controls that give them access to Virtual Speech, software designed to help people improve their public speaking skills in various environments.
Virtual Speech simulates public speaking situations such as presentations, job interviews and even business networking events. Users can upload their visual aids into the software, which tracks their public speaking patterns, including pauses, pace, tone, volume and use of filler words. The software will generate a report which can help the user improve his or her public speaking ability.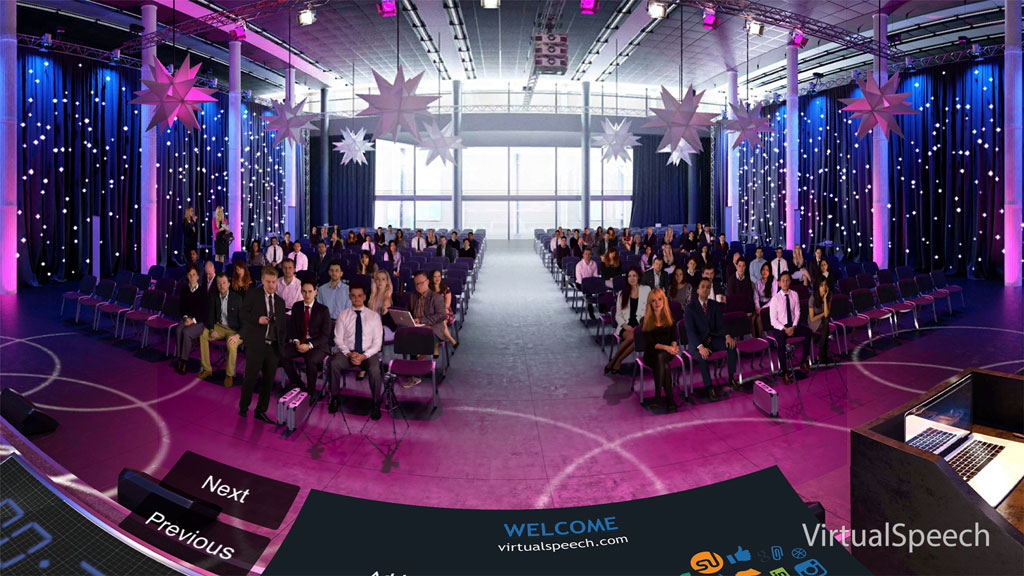 Where to find us
Indiana Tech's Virtual Reality Communication Lab is on the first floor of the McMillen Library in the Snyder Academic Center. To use the lab, however, you must present your Indiana Tech-issued ID to the tutor in the Writing Center on the second floor of the McMillen Library. You can use the lab for up to 60 minutes at a time.
Hours
The Virtual Reality Communication Lab is open at the times below beginning the second week of each semester. It is not open during finals weeks.
Monday-Friday: 9 a.m.-3 p.m.
Monday-Thursday, Sunday: 5-8 p.m.