Success Stories
A marketing brochure will only go so far in showing you how an Indiana Tech education can prepare you well for a successful career. That's why we work hard to stay in touch with our graduates so we can develop their Success Stories. First and foremost, we are proud of our graduates and we love letting the world know about their outstanding accomplishments. Secondly, there is no one better to illustrate the impact of an Indiana Tech degree than one who has walked across our commencement stage and dived headlong into his or her career.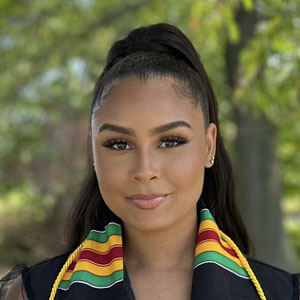 Sydneya Seals
B.S. Health Science, 2022
Sidney's experience in Indiana Tech's health science degree program helped her identify a career path and gave her the confidence to pursue it.
Originally, Sydney wanted to go into medical imaging, but as time went on, her focus shifted to nursing.
"The health science program really helped me determine what career I wanted to pursue and gave me a base for health care. I completed all my nursing prerequisites at Indiana Tech and graduated summa cum laude—a semester early—in December of 2022. I am now enrolled in an accelerated nursing program and plan to graduate in December of 2024.
Sydney added, "During my time at Indiana Tech, I had a great support system of Dr. Anne Gull, the dean of the College of Arts and Sciences, and Dr. Sharon Drapala, the director of the health science program, that really helped me navigate my major. Without Indiana Tech and all my professors, I wouldn't be pursuing nursing and I definitely wouldn't be where I am today."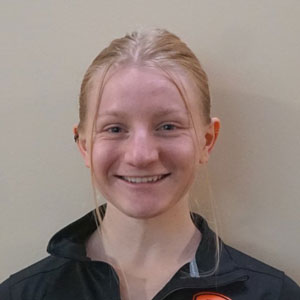 Savannah Emaus
B.S. Excercise Science, 2023
Savannah is well on her way to earning a doctorate in physical therapy, thanks to the exercise science education she received at Indiana Tech. She cited out-of-classroom learning opportunities at regional health facilities and hands-on lab work as experiences that prepared her for her next level of education.
"Indiana Tech offered me more than most universities can—a place that I was able to feel seen, understood and nurtured. My professors made it their personal mission to see me and my fellow classmates succeed beyond our goals."
Savannah will earn her DPT in May 2026, after which she plans to go into neurological rehabilitation to work with brain injury patients.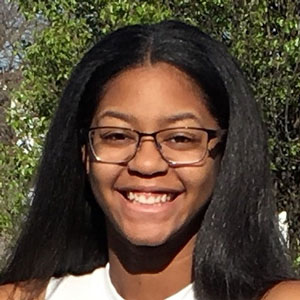 Arnez Williams
B.S. Forensic Science, 2022
Arnez is a fingerprint classifier in the Indiana State Police Laboratory—a position she began shortly after graduating in May 2022. In this role, Arnez collects, organizes and evaluates fingerprint data submitted by state, local and national law enforcement agencies to develop conclusions about identity and arrest records. Her work has been helpful in criminal investigations, hiring processes and even background checks for firearms sales.
Arnez says her experience at Indiana Tech made her ready to enter the workforce.
"During my time in the forensic science program, I learned relevant lab techniques and procedures andpicked up necessary professional skills that preparedme for this position," she said. "The faculty at Indiana Tech makes you feel heard and safe and they are always there when you need them. I appreciate them and everything Tech has done for me."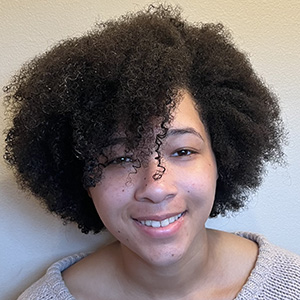 Nina Penny
B.S. Biology, 2024
Biology major Nina Penny earned an outstanding internship opportunity for the summer of 2023. Nina is participating in Northwestern University CURE, a prestigious cancer-focused undergraduate research experience at the Robert H. Lurie Comprehensive Cancer Center in Chicago.
Penny, who was one of 12 students selected from a field of over 1,000, is spending eight weeks working alongside top cancer researchers in state-of-the-art laboratories and helping advance novel research projects in cell and molecular biology, cancer immunology and other focus areas.
"I am very honored to receive this opportunity. It gives me the chance to apply the skills I have learned throughout these past three years to cancer research," said the Chicago native, who will graduate in 2024. "My experience at Indiana Tech has greatly prepared me for this opportunity; the countless labs and phenomenal professors have trained me to not only work well in a group of researchers, but to also think independently to solve research questions."
While in the program, Nina will be working in the lab of Dr. Karla Satchell, who leads the Center for Structural Genomics of Infectious Diseases at Northwestern University's Feinberg Medical School. Dr. Satchell's lab focuses on diseases caused by Vibrio bacteria and the cell biology applications of bacterial toxins. Nina will work with a group of postdoctoral students to document the effects of a the pathogen on infected mice.
"I want to gain more skills involving research so I can further prepare for a career in veterinary medicine, especially since I am not quite sure what field of veterinary medicine I want to pursue," Nina said. "Additionally, this program provides me the chance to grow as a woman in science in a lab that is dedicated to improving society through infectious disease and cancer research."
After graduating, Nina plans on attending veterinary school. She is also interested in medical research, surgery and emergency medicine.
"Nina's success in obtaining this incredible opportunity is a testament to her focused determination," said Dr. Julie Good, director of Indiana Tech's biology program. "Her work at Northwestern University's Feinberg School of Medicine this summer will open doors not only into the research of Dr. Karla Satchell but also into the Robert H. Lurie Comprehensive Cancer Center and the School of Medicine. I am thrilled for all that she will bring back to Tech in the fall!"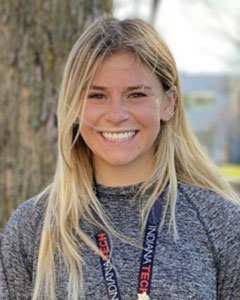 Danielle Blagojevic
B.A., Communication-Sports Media, 2021
Dani took advantage of every opportunity to pursue experiential learning and did so with honors at Indiana Tech. She interned with Indiana Tech's athletics department, the Sandusky Bay Ice Haulers, Input Fort Wayne, Indiana Tech Institutional Advancement and WBOI Northeast Indiana Public Radio.
But what she really enjoyed was working with her professors who work in the industry.
"My professors were all extremely qualified and brought 'real-world' experiences to their coursework," she said. "I had professors who were head of their college newspapers, head weathermen specialists, news anchors, sports journalists, etc. The program helped me get to where I am today by forcing me into real-world scenarios that both interested me and built my resume."
Dani currently works as assistant athletic director of communications at the University of Saint Francis and said that her experiences in the program shaped who she is today.
"I am only qualified to do my job because of my experiences at Indiana Tech and my undergraduate programs" she said. "I use every 'focus' of my undergrad in my job today and my experiences within the athletic department at Tech. Tech 110 percent qualified me for my role and will continue to be my foundation at whatever I decide to pursue next. I owe a lot to my professors and supervisors as they prepared me for life after college and the real world."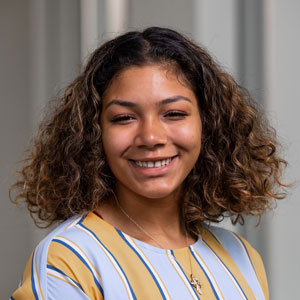 Cherokee Bodell
B.S. Biology, 2022
When Cherokee began pursuit of her degree in biology, she admits that she suffered from imposter syndrome and concerns about being able to stay on pace with her colleagues. But, by drawing strength from her faith and taking advantage of her Indiana Tech experience, the Pataskala, Ohio, native has a bright future in medicine.
In the summer of 2021, Cherokee earned a paid internship in the lab of H. Joseph Yost, Ph.D., vice chair for basic science research the University of Utah, whose laboratory group researches cardiac disease at the intersection between model organism embryology, genetics and the discovery of novel disease-causing mutations.
Her work in Utah was so impactful, she was invited to present her findings to the National Human Genome Research Institute at Duke University in April 2022.
"Her work has staggered my understanding of what an undergraduate research project could be," said Indiana Tech professor of biology Dr. Julie Good. "She returned from the summer project and completed a second research project on campus. Both opportunities are significant milestones in her young career, and I am very proud of her."
"Each professor at Indiana Tech has been completely invested in my future—taking time to help me understand material and granting me opportunities to grow professionally," Cherokee said. "Indiana Tech helped me enter my field with confidence, and if I had it to do all over again, Tech would still be my top choice."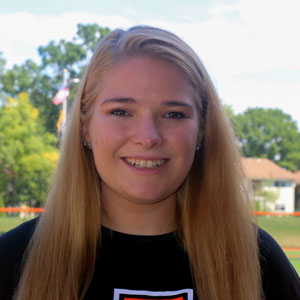 Sydney Williams
B.S. Forensic Science, 2022
Indiana Tech's 2021 investment in a state-of-the-art forensic lab reinforced an already-strong forensic science program. The lab enhancement gives our students the same tools that forensic data analysts are using in contemporary laboratories around the world for a variety of laboratory-based and advanced forensic science careers.
For Sydney, of Wauconda, Illinois, the new lab is preparing her to be a forensic analyst in a field that has intrigued her since sixth grade.
"This equipment is helping me develop techniques that I will be using when I further my career in this field," she said. "I am learning how to work in a lab setting and follow protocols that are going to give me the most accurate outcomes."
"I chose this career path because sixth-grade me found something that she was good at in science class—working with DNA," she added. "From there, I fell in love with science and criminal justice, which led me down the path of forensic science and brought the two things I loved into one. I also knew I wanted a field that would help people. I can do that here without being directly connected with the victims' families."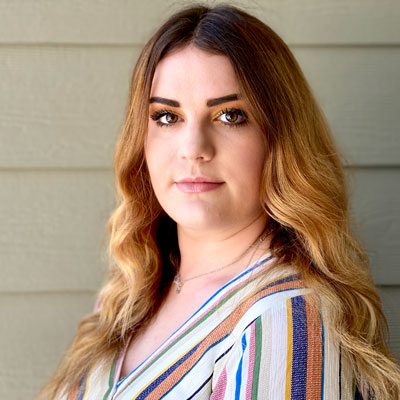 Alexandra Ross
B.S. Digital Graphics and Design, 2021
Indiana Tech's digital graphics and design majors are exposed to several business courses and concepts. For Alexandra, who earned her bachelor's with a perfect 4.0 GPA, that aspect of her degree pursuit was game-changing.
"Those business courses gave me a glimpse into many real-world situations that may occur in an organization and made me more prepared for career experiences," she said. "On top of that, many of my courses required group projects, which helped me become a better communicator and organizer in team settings."
Alexandra is pursuing an MBA concentrating in marketing at Indiana Tech and expects to complete the program in summer 2022. She will also participate in a summer internship at Caldwell VanRiper, a corporate marketing firm in her hometown of Indianapolis.
"It is my dream to work in a marketing or advertising firm, especially in my hometown," she said. "I hope this experience gives me the opportunity to grow in this field."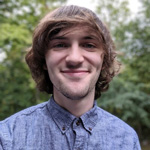 Dustan Herendeen
B.A. Communication, 2019
Dustan currently works as a production assistant at WANE 15. He serves as the intermediary between director and broadcasting cast, providing assistance with scripts, camera equipment and broadcasting fluidity. He also works as a freelance videographer with skills in filming, post-production editing, script writing, voice-overs, music production and social media marketing.
In order to meet the Communication degree requirements, Dustan completed an internship for Century21 where he was able to learn the art of script writing for TV broadcasting. Additionally, he has worked with the Indiana Tech MBA program to develop videos for its online content.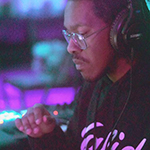 Tywell Williams
B.A. Communication, 2018
Tywell works as a music producer, helping clients with composing, producing, and editing music. Additionally, he works for the Renaissance YMCA with youth on music production, songwriting, recording and mixing/mastering.
"I love sharing my passion for music production with younger kids," he said. "It gives me a sense of joy."
Recently, Tywell worked on the "We Need More Hands" project, which featured a soundtrack for the opening of a new Rescue Mission in Fort Wayne.
"The project was for the groundbreaking ceremony for the new Rescue Mission in downtown," he said. "It was a year-long project, and I'm happy that I was a part of it."
Tywell said his communication classes at Indiana Tech helped him become successful in the music industry.
"I can establish and foster positive relationships with clients, manage time with musicians and artists, as well as develop my persuasive abilities that are needed for the industry," he said.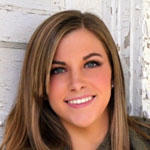 Haley Merz
B.S. Recreation Therapy, 2019
Haley Merz combined her natural compassionate nature with a Bachelor of Science in Recreational Therapy to secure a wonderful position helping others at Pure Abilities, LLC, an Indiana-based company that provides one-on-one therapeutic services for individuals of all ages and disabilities.
While at Tech, the 2018 graduate found her way to Pure Abilities through an internship–an experience that immersed her in the values of recreational therapy and solidified her passion for engaging others in positive life-changing activities. Since being there, she has become a Certified Therapeutic Recreational Specialist (CTRS), and she works within her community to increase awareness and foster inclusion for individuals with disabilities.
During her internship at Pure Abilities, Haley created a GoFundMe page to raise money so one of her clients could accomplish his dream of skydiving. Watch here: https://www.youtube.com/watch?v=LteBBQuHQo8.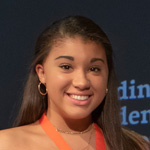 Autumn Stokes
B.S. Child Development, 2019
Autumn Stokes achieved many recognitions during her time at Indiana Tech. The 2019 graduate made the dean's list for six straight semesters, was named the university's Outstanding Child Development graduate for 2019 and was honored as a Daktronics NAIA Scholar-Athlete for her high academic standing. She was able to achieve these honors while playing four years for the Warriors' varsity volleyball squad—two years as its team captain.
Understandably, her biggest challenge was time management—the balancing of school, work, and playing volleyball. She credits professor of psychology, Dr. Justin Boyce, for providing positive inspiration that helped her make it through.
"He has always gone out of his way to encourage me to achieve my goals, as well as give me recognition for my hard work in my academics," Autumn said.
Autumn intends to continue on to graduate school and become either a school psychologist or a sports psychologist.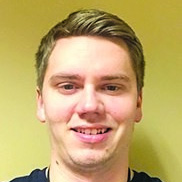 Caleb Schannep
B.S. Fitness & Recreation, 2016
Long before achieving his fitness and recreation degree in 2016, Caleb applied the skills he was learning in his Indiana Tech classrooms out in the Fort Wayne community. Leading up to graduation, he was a pre-school/youth staff supervisor for Fort Wayne Parks and Recreation, a teaching assistant with Fort Wayne Community Schools and the head soccer coach for Woodlan High School for a season.
Caleb used that experience and networking to earn two full-time post-graduation positions, the most recent being as a program director for the YMCA of Greater Fort Wayne.
"Choosing to pursue a major in fitness and recreation was a perfect fit, since my passion is to work with youth, adults and sports," Caleb said. "My internship led me to my first job out of college as the program coordinator for Fort Wayne Parks and Recreation."
Caleb's new role involves planning programming for the Y's child care services.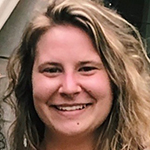 Kelsey Bair
B.S. Exercise Science, 2020
When Kelsey Bair graduated in May 2020, the Fort Wayne, Indiana, native was well equipped for the next stage of her life.
"I feel very confident taking my next step because of my education from Indiana Tech. Tech has a hands-on program and it gives you the confidence to go out and do what you have learned." Kelsey said.
"With my education and the connections I made through internships, I was able to get into graduate school at Manchester University in the athletic training program. When I went for my interview at Manchester, I felt better prepared than other students who were there with me," she added.
Now, Kelsey is one step closer to realizing her career goal of becoming an athletic trainer.
"I have always wanted a career where I could help people, and with my exercise science degree I can do that."
Loni Robertson
B.S. Psychology, 2014
Loni is a research associate at Gateway Rehabilitation Center in Pittsburgh, a position she thanks Indiana Tech for helping her achieve.
"My overall experience at Indiana Tech gave me the tools to prepare for my future. The small classes allowed me to get to know professors better and learn from their experiences as well as developing a forever support system," she said.
One significant experience came from working with professor Dr. Justin Boyce and two other students on a research project—a project that took the group to Las Vegas to present their findings. It was there that she connected with the Gateway organization.
"My goal was to become an addictions counselor, and because of the opportunities and experiences I had at Tech, I achieved that goal. Without the education, experiences and support I received throughout my college career, I wouldn't be where I am today."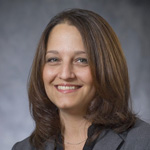 Jennifer Hitchcock
B.S. Pre-Law, 2015
Before establishing her own law firm in Fort Wayne, Jennifer got her start in the pre-law program at Indiana Tech. It was there that she knew she was on the right path.
"The undergrad programs at Indiana Tech are designed for student success," Jennifer said. "The instructors and the administration are of the highest caliber, and the culture within the school is energizing and uplifting."
While working toward her law degree, Jennifer built relationships with professors, administrators and her classmates, and credits those relationships to helping her both personally and professionally.
"My undergrad advisor and I still speak regularly, and his support and guidance have been instrumental in my success," she said.
Jennifer is doing exactly what she hoped after graduating from Indiana Tech: representing clients who have been discriminated against or unfairly targeted because of their socioeconomic status.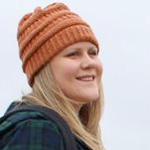 Courtney Lakes
B.A. Communication, 2017
Courtney works with troubled youths as a mental health worker at Yellowstone Boys and Girls Ranch in Billings, Montana. She feels her Indiana Tech education prepared her well for the "challenging and rewarding" position.
"Everything in my degree program helped me—from the professors, to all the different courses for a communication major. It gave me the confidence and ability to work in any kind of job field," Courtney said. "I give huge credit to my professors; they contributed to most of what I have now in my current career. They really shaped me into the kind of individual that goes after things and always strives for more. I believe Indiana Tech made me fearless and gave me huge amounts of confidence to believe that I can be who I want to be in any kind of career."
Courtney wants to pursue a master's in communication and become a professor. In addition, the children's book series she created as her senior project is still a work in progress she hopes to have published one day.