Dr. Mauricio Torres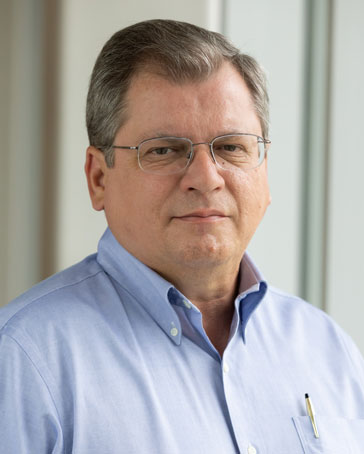 Acting Associate Dean, Talwar College of Engineering and Computer Sciences/Associate Professor, Mechanical Engineering
Talwar College of Engineering and Computer Sciences
Phone: 260.422.5561 ext. 2145
Email: mtorres@Indianatech.edu
Office: Zollner Engineering Center, Room 017A
Office Hours
MW: 3 – 5 pm
TR: 10 am – 12 pm
Or by appointment
Class Information
MET 1010: Introduction to Mechanical Engineering Technology
EM 2010: Statics
EM 2020: Dynamics
EGR 2710: GD&T
ME 3110: Theory of Machines
ME 3410: Mechanical Engineering Design II
ENE 4973: Senior Thesis I
ENE 4974: Senior Thesis II
ME 4960: ME Senior Project I
ME 4961: ME Senior Project II
Academic Advisor Roles
Mechanical Engineering, Mechatronics and Robotics Engineering and Mechanical Engineering Technology
Academic Degrees
Ph.D., Industrial & Systems Engineering, Florida International University (2011)
M.S., Engineering Management, Florida International University (2006)
B.S., Mechanical Industrial Engineering, Braz Cubas University, Brazil (1990)
B.B.A, Business Administration, City University of Sao Caetano do Sul, Brazil (1984)
Professional Experience
Associate Professor and Chair of Mechanical Engineering, Indiana Tech (Current)
Associate Professor and Director of Engineering Technology, Northern Kentucky University
Adjunct Professor, Florida International University
35 years of experience in industry and business
Selected Publications/Presentations
Sacco, Cesar, Aldie Trabachini, Mauricio Torres and Clovis de Souza Dias. "Tandem Ball Bearings vs. Tapered Roller Bearings: A Brief Review of Utilization in a Differential Gearbox", International Journal of Engineering research and Innovation, Vol. 13, No. 1, pp 57-62, 2021
Sadat-Hossieny, Morteza, Mauricio Torres, Sabira Sadat-Hossieny and Zane Decker. "Using SAE-Baja project in attracting and empowering women in Engineering/Technology: a case of success at Northern Kentucky University (NKU) and Cincinnati State Technical and Community College (CSTCC)", 2020 Industry, Engineering and Management (IEMS) Conference, Tampa, FL (03/2020).
Sun, Gang, Brian Decker, Mauricio Torres and Morteza Sadat-Hossieny. "Robotics Laboratory Environment Monitoring, Safety and Control System with GSM Interface", 2020 ASEE Conference for Industry and Education Collaboration, Orlando, FL (01/2020).
Torres, Mauricio and Cesar Sacco. "Methodology to Evaluate the Environmental Impact of Wind Power Generation During the Planning Phase of the Facilities Projects", Technology Interface International Journal, vol. 19, No. 1, pp 42-51, 2019.
Torres, Mauricio, Morteza Sadat-Hossieny and Gang Sun. "University-Industry Collaboration to Meet Criterion 7 of an ETAC Accredited Program", 2019 Industry, Engineering and Management (IEMS) Conference, Tampa, FL (03/2019).
Additional Information
Interests: Manufacturing processes, enterprise engineering and engineering education.