Dr. Julie Davis Good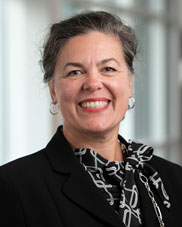 Professor of Biology
College of Arts and Sciences
Phone: 260.422.5561, ext. 3477
Email: jdgood@indianatech.edu
Office: Snyder Academic Center 179
Office Hours
MTWR: 4 – 6 pm
F: 2 – 4 pm
Class Information
General Biology I and Lab (BIO 1330-1340)
General Biology II and Lab (BIO 1350-1360)
Cell Biology Lab (BIO 2910)
Bioinformatics (BIO 3310)
Advanced Microbiology and Lab (BIO 3840-3850)
Molecular Pathogenesis (BIO 3910)
Cell and Molecular Research I-II (BIO 4800-4810)
Urban Biology Field Project I-II (4900-4910)
Academic Advisor Roles
Biology majors and minors
Academic Degrees
Postdoctoral Fellowship at Centers for Disease Control and Prevention
PhD, University of Pennsylvania, Cell & Molecular Biology (virology)
BA, Biology pre-medicine, Hanover College
Professional Experience
2018-2022: Associate Professor, Biology, Indiana Tech
2009-2018: Associate Dean, Van Andel Institute Graduate School
2001-2009: Associate Professor, University of Virginia School of Medicine, Department of Microbiology
1998-2001: Postdoctoral Fellow, Centers for Disease Control and Prevention
Selected Publications/Presentations
Training Facilitator, Small World Initiative Summer Instructor Training Workshop, virtual in 2020 and 2021
"Digging Earthworms for Soil Characterization through Microbiome Identification", virtual presentation to the American Society for Microbiology Conference for Undergraduate Educators, 2021
"Evidence-based Assessment: developing and validating instruments for criterion-referenced measures", joint workshop with Myrah R. Stockdale, AALHE Annual Conference, Salt Lake City, Utah, 2018
"Stronger Together: Graduate students and mentors collaborate in Core Competencies assessment", co-presented with Patty Farrell-Cole and Steve Triezenberg, Midwest Association of Graduate Schools, 2018
"Using Evidence-Based Student Learning Outcomes for Continuous Program Improvement", co-presented with Patty Farrell-Cole and Jason Cooper, AALHE Annual Conference, Louisville, Kentucky, 2017
"Problems and Proposals in Graduate Pathways: problem-based learning approach to doctoral education in biomedical research", co-presented with Steve Triezenberg, Midwest Association of Graduate Schools, 2017
"Evidence Based Learning", presentation to the Lilly Conference on Teaching, Traverse City, Michigan, 2016
"HIV-Tuberculosis Synergy", presentation for Science on Tap, Grand Rapids, Michigan, 2015
"Using Core Competencies for student assessment and program effectiveness", presentation to Research on Teaching and Learning Summit, Kennesaw, Georgia, 2015
"Modeling MDS in mice through precise molecular lesions in APC and mDia1", poster presented at the American Association for Cancer Research Meeting on Hematological Malignancies, Philadelphia, 2014
"Competency-based assessment of doctoral student progress in a problem-based curriculum in biomedical research", poster presentation at the American Society for Cell Biology Annual Meeting, New Orleans, 2013
"Possibility Thinking", keynote speaker for the STEM Girls Genius Conference, Grand Rapids, Michigan, 2012
Lash LL, BJ Wallar, JD Turner, SM Vroegop, RE Kilkuskie, SM Kitchen-Goosen, HE Xu, AS Alberts. "Small-molecule intramimics of formin autoinhibition: a new strategy to target the cytoskeletal remodeling machinery in cancer cells." Cancer Research, 2013 Nov 15; 73(22):6793-6803.
Turner, JD and SJ Triezenberg. "PBL for Ph.D.: A Problem-based Learning Approach to Doctoral Education in Biomedical Research." ASQ Higher Education Brief. October 2010; Vol.3, No.5.
"Tuberculosis Update: Basic Science Paradigm Shifts", presented to Grand Rounds, University of Virginia Medical School, 2009
Doranz, BJ, Orsini, MJ, Turner, JD, Hoffman, TL, Berson, JF, Hoxie, JA, Peiper, SC, Brass, LF, and Doms, RW. "Identification of CXCR4 domains that support coreceptor and chemokine receptor functions." J. Virology, 1999 April; 73:2752-2761.
Hoxie JA, LaBranche CC, Endres MJ, Turner JD, Berson JF, Doms RW, Matthews TJ. "CD4-independent util-ization of the CXCR4 chemokine receptor by HIV-1 and HIV-2." J. Reprod. Immun. 1998 Dec; 41(1-2): 197-211.
Willett BJ, Adema K, Heveker N, Brelot A, Picard L, Alizon M, Turner JD, Hoxie JA, Peiper S, Neil JC, Hosie MJ "The second extracellular loop of CXCR4 determines its function as a receptor for feline immunodeficiency virus." J. Virol. 1998 Aug;72(8):6475-81.
Hosie MJ, Broere N, Hesselgesser J, Turner JD, Hoxie JA, Neil JC, Willett BJ "Modulation of feline immunodeficiency virus infection by stromal cell derived factor." J. Virol. 1998 Mar;72(3):2097-104.
Yi Y, Rana S, Turner JD, Gaddis N, Collman RG "CXCR 4 is expressed by primary macrophages and supports CCR5 independent infection by dual tropic but not T tropic isolates of human immunodeficiency virus type 1." J. Virol. 1998 Jan;72(1):772-7.
Endres MJ, Jaffer S, Haggarty B, Turner JD, Doranz BJ, O'Brien PJ, Kolson DL, Hoxie JA "Targeting of HIV and SIV infected cells by CD4 chemokine receptor pseudotypes." Science 1997; 278(5342): 1462-4.
Willett BJ, Picard L, Hosie MJ, Turner JD, Adema K, Clapham PR "Shared usage of the chemokine receptor CXCR4 by the feline and human immunodeficiency viruses." J. Virol. 1997 Sep;71(9):6407-15.
Strizki JM, Turner JD, Collman RG, Hoxie J, Gonzalez Scarano F "A monoclonal antibody (12G5) directed against CXCR 4 inhibits infection with the dual tropic human immunodeficiency virus type 1 isolate HIV 1(89.6) but not the T tropic isolate HIV 1(HxB)." J. Virol. 1997 Jul;71(7):5678 83.
Lu Z, Berson JF, Chen Y, Turner JD, Zhang T, Sharron M, Jenks MH, Wang Z, Kim J, Rucker J, Hoxie JA, Peiper SC, Doms RW "Evolution of HIV 1 coreceptor usage through interactions with distinct CCR5 and CXCR4 domains." Proc. Natl. Acad. Sci. U S A 1997 Jun 10; 94(12): 6426-31.
Pinon JD, Mayreddy RR, Turner JD, Khan FS, Bonilla PJ, Weiss SR "Efficient autoproteolytic processing of the MHV A59 3C like proteinase from the flanking hydrophobic domains requires membranes." Virology 1997 Apr 14; 230(2): 309-22.
Rana S, Besson G, Cook DG, Rucker J, Smyth RJ, Yi Y, Turner JD, Guo HH, Du JG, Peiper SC, Lavi E, Samson M, Libert F, Liesnard C, Vassart G, Doms RW, Parmentier M, Collman RG "Role of CCR5 in infection of primary macrophages and lymphocytes by macrophage tropic strains of human immunodeficiency virus: resistance to patient derived and prototype isolates resulting from the delta-ccr5 mutation." J. Virol. 1997 Apr; 71(4):3219-27.
Willett BJ, Hosie MJ, Neil JC, Turner JD, Hoxie JA "Common mechanism of infection by lentiviruses." Nature 1997 Feb 13; 385(6617):587.
Endres MJ, Clapham PR, Marsh M, Ahuja M, Turner JD, McKnight A, Thomas JF, Stoebenau Haggarty B, Choe S, Vance PJ, Wells TN, Power CA, Sutterwala SS, Doms RW, Landau NR, Hoxie JA "CD4 independent infection by HIV 2 is mediated by fusin/CXCR4." Cell 1996 Nov 15; 87(4):745-56.
Additional Information
Professional memberships:
2000 to present American Society of Microbiology (ASM)
2007 to present Association of Women in Science (AWIS)
2014 to present American Society for Cell Biology (ASCB)
Dissertation location:
Turner, JD "CXCR4 and HIV/SIV: Mapping viral determinants with monoclonal antibodies" (Jan 1, 2000). Dissertations available from ProQuest. Paper AAI9965585. https://repository.upenn.edu/dissertations/AAI9965585