Peggy Canales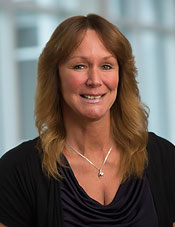 Associate Professor, Industrial & Manufacturing Engineering
Talwar College of Engineering and Computer Sciences
Phone: 260.422.5561, ext. 2307
Email: pacanales@indianatech.edu
Office: Zollner Engineering Center, Room 007
Office Hours
MWF: 8-9 a.m., Noon-1 p.m.
T: 8 a.m.-2 p.m.
R: 8-11 a.m., 1-2 p.m., 3:30-5:30 p.m.
Class Information
EGR 2650
EGR 4400
IME 2010
IME 4020
IME 4974
MSE 6010
MSE 6020
Academic Advisor Roles
Advise IME students in both the traditional and online programs
Academic Degrees
Ph.D., Engineering Education, Purdue University, (ABD)
MBA, Indiana Wesleyan University (1992)
BSME, Tri-State University (1985)
Professional Experience
Prior to joining Indiana Tech as a full-time faculty, I worked for eight years as a manufacturing consultant. I was employed by a combined State (under the Department of Commerce) and Federal (National Institute of Standards and Technology) program to provide no-cost consulting services to Indiana businesses in an effort to improve their ability to compete in today's marketplace. In this position, I assisted companies in solving problems related to technology, manufacturing, training, management, marketing, finance, and quality. I also conducted numerous training sessions, in several states, on areas related to Lean Manufacturing.
For the past 20 years, I have been actively involved in teaching at the college level. In 1993, I began teaching as an adjunct for Indiana Wesleyan University. I taught in Kokomo, Bloomington, Columbus, and Fort Wayne over a six-year period. I began teaching as an adjunct for Indiana Tech in 1998.
I also have extensive experience working as an engineer in the automotive industry. I spent several years with Tenneco Automotive as a Process Engineer and Ergonomics Trainer. I also spent several years as a Development Engineer for Chrysler Corporation.
Selected Publications/Presentations
No information available.
Additional Information
Seminars/Training
Lean Leadership Certificate, University of Michigan
ISO 14001 36-hour Lead Auditor Training – Certificate No. 409
MEP University Courses
LE 101 and LE 101T – Principles of Lean Manufacturing and Principles of Lean Manufacturing Train the Trainer
LE 202 and LE 202T – Value Stream Mapping and Value Stream Mapping Train the Trainer
LE 203 – The 5S System: Workplace Organization
LE 204 and 204 T – Set-Up Reduction and Set-Up Reduction Train the Trainer
LE 205 and 205T – Cellular Flow Manufacturing (CFM) and CFM Train the Trainer
ISO/QS-9000 3rd Edition and ISO/QS 9000 Internal Auditor Training
OSHA 30-hour Voluntary Outreach Program
NTU (National Technological University) Courses
Environmental Best Manufacturing Practices
Activity Based Costing and Management
Managing Growth in Small and Midsized Manufacturing Firms
Project Management for Small/Midsized Manufacturers
Ergonomics for the Manufacturing Workplace
Operations Management: Principles for Lean Manufacturing
Toxics Use Reduction – Clean Manufacturing Technology and Safe Materials Institute, Purdue University
MOST, Methods Engineering – Maynard Management Institute
TQM, AQP, GD&T – Tenneco Training Center, Ann Arbor, Michigan
Applied Ergonomics I & II and Ergonomics Train the Trainer, Cybenet, Grand Haven, Michigan
QIP – Chrysler Institute, Detroit, Michigan
Outdoor Leadership Challenge – Indiana University
Conferences
Electrical Manufacturing and Coil Winding Association Conference, 10/2006, Session Chair
Electrical Manufacturing and Coil Winding Association Conference, 10/2005, Session Chair
Society of Manufacturing Engineers, Fort Wayne Tool Show, 5/2005, Displays Judge
Electrical Manufacturing and Coil Winding Association Conference, 10/2003, Session Chair