Dr. Thomas D. Tran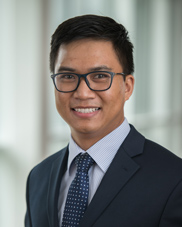 Assistant Professor of Mechanical Engineering
College of Engineering
Phone: 260.422.5561, ext. 3478
Email: ThomasDTran@indianatech.edu
Office: Zollner Engineering Center, Room Z015
Office Hours
MWF: 10:00 am – 12:00 pm
TR: 2:00 pm – 3:00 pm
Class Information
Previously taught:
EM 3500: Fluid Mechanics
EM 3550: Fluid Mechanics Lab
ME 3110: Theory of Machines
ME 3200: Thermodynamics
ME 3405: Finite Element Analysis
ME 4260: Heat Transfer
ME 4270: Heat Transfer Lab
ME 4973: ME Senior Design I
ME 4974: ME Senior Design II
EGR 4950: Engineering Internship
Academic Advisor Roles
ME and MET
Academic Degrees
Ph.D., University of Utah
M.S., University of Utah
B.S., Cal Poly Pomona
Professional Experience
Energy Consultant, Intermountain Industrial Assessment Center
Research Assistant, University of Utah
Teaching Assistant, University of Utah
Selected Publications/Presentations
T. D. Tran and A. D. Smith, "Thermo-economic Analysis of Residential Rooftop Photovoltaic Systems with Integrated Energy Storage and Their Impacts toward Electrical Distribution Networks," Sustainable Energy Technologies and Assessments, vol. 29, pp. 92-105, 2018.
T. D. Tran and A. D. Smith, "Incorporating Performance-based Global Sensitivity and Uncertainty Analysis into LCOE Calculations for Emerging Renewable Energy Technologies," Applied Energy, vol. 216, pp. 157-171, 2018.
T. D. Tran and A. D. Smith, "Evaluation of renewable energy technologies and their potential for technical integration and cost-effective use within the U.S. energy sector," Renewable and Sustainable Energy Reviews, vol. 80, pp. 1372-1388, 2017.
T. D. Tran, K. Park, and A. D. Smith, "System Scaling Approach and Thermoeconomic Analysis of a Pressure Retarded Osmosis System for Power Production with Hypersaline Draw Solution: A Great Salt Lake Case Study," Energy, vol. 126, pp. 97-111, 2017.
Additional Information
LinkedIn: tinyurl.com/LinkedInTTDT
Google Scholar: tinyurl.com/ScholarTTDT