Dr. Anna Nagle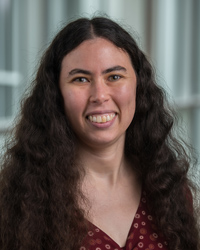 Assistant Professor of Biomedical Engineering
Talwar College of Engineering and Computer Sciences
Phone: 260.422.5561, ext. 3481
Email: asnagle@indianatech.edu
Office: Cunningham Center, Room 105C
Office Hours
Please see grid on office door or email for office hours.
Class Information
BME 3500: Biomechanics
BME 3200: Thermodynamics/ Fluid dynamics/ Heat transfer
BME 3250: Thermodynamics & Fluids Lab
BME 4973 and 4974: BME Senior Project I and II
EGR 1500: Computer Programming for Engineers
EGR 2000: Engineering communication
Academic Advisor Roles
Biomedical Engineering
Academic Degrees
Ph.D., Biomedical Engineering, The University of Cincinnati Cincinnati, OH 2006-2015
B.S., Biomedical Engineering with honors, The University of Iowa Iowa City, IA 2001- 2005
Professional Experience
Post-doctoral Fellow, Department of Mechanical and Nuclear Engineering Virginia Commonwealth University Richmond, VA 2015-Present
Research Assistant, Department of Research Palmer College of Chiropractic Davenport, IA 2005-2006
Selected Publications/Presentations
For up-to-date statistics on citations, please see Dr. Nagle's Google Scholar profile at https://scholar.google.com/citations?user=FBmzDu4AAAAJ&hl=en
Selected publications:
Anna Nagle, Adam Klausner, Jary Varghese, Rachel Bernardo, Andrew Colhoun, Wayne Barbee, Laura Carucci, and John Speich, "Quantification of bladder wall biomechanics during urodynamics: A methodologic investigation using ultrasound." Journal of Biomechanics. 61 (2017) p. 232-241.
Anna Nagle, John Speich, Stefan De Wachter, Peter Ghamarian, David Le, Andrew Colhoun, Paul Ratz, Wayne Barbee, and Adam Klausner, "Non-invasive characterization of real-time bladder sensation using accelerated hydration and a novel sensation meter: an initial experience." Neururology and Urodynamics. 36 (2017) p.1417-1426.
Fong Ming Hooi, Anna Nagle, Swetha Subramanian, and T. Douglas Mast, "Analysis of tissue changes, measurement system effects, and motion artifacts in echo decorrelation imaging" Journal of the Acoustic Society of America. 137(2015) p.585-597.
Anna Nagle, Matthew Barker, Steven Kleeman, Balakrishna Haridas, and T. Douglas Mast, "Passive biomechanical properties of human cadaveric levator ani muscle at low strains." Journal of Biomechanics. 47 (2014) p. 583-586.
Additional Information
https://www.researchgate.net/profile/Anna_Nagle