Cybersecurity, B.S.
Talwar College of Engineering and Computer Sciences
Indiana Tech's Bachelor of Science in Cybersecurity will prepare you for a career and leadership within the rapidly expanding cybersecurity field. Our program blends the technical aspects of cybersecurity, information security, network security, network penetration, digital forensics and defensive CyberOps with a fundamental understanding of criminal investigation.
What's more, Indiana Tech is creating a state-of-the-art learning environment for its cybersecurity students which will include a security operations center, a digital forensics lab and an interactive data center. This reimagined and robust center will be completed in time for the 2021-22 academic year.
Hands-on coursework in computer programming, networking, electronics and criminology will arm you with the expertise that today's companies, organizations and law enforcement and intelligence agencies are looking for to protect data. The result is a uniquely effective degree that enables you to become a digital detective ready to protect individual and organizational data and fight the cyberattacks and crime that take place every day on the Internet and company networks.
Why choose Indiana Tech?
You will learn to evaluate vulnerability risks and determine appropriate security measures to protect organizations before cyberattacks occur.
Our tech-savvy instruction will teach you how to utilize and leverage technology in ways that add value to clients, customers and employers.
Opportunities for industry internships will help you develop career skills, experience and contacts for career placement after graduation.
Indiana Tech fosters an active learning environment, enriched by instructors who possess years of experience in their respective field.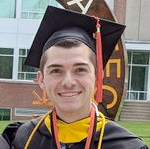 Joey Miller
B.S. in Cybersecurity, 2018
When Joey was researching colleges, he knew he wanted to be a part of a smaller university environment with quality campus facilities. Indiana Tech f...
Read full story
Careers in this Degree
Graduates with this degree have pursued careers in the following fields:
Network security for various sectors, including retail/commerce, health care, finance and law enforcement
CyberOps
Cybersecurity management
Job Outlook
Below are some of the potential career opportunities available to graduates with this degree. Additionally, you will find national statistics for average annual salaries and projected job growth, as identified by BLS.gov statistics. Salaries can vary based on the market in which you live and the prior experience you bring to the position.
Network/computer systems administrator

$82,050/year
Job outlook through 2028: 5 percent increase
Information security analyst

$98,350/year
Job outlook through 2028: 32 percent increase
Computer network architect

$109,020/year
Job outlook through 2028: 5 percent increase
Computer systems analyst

$88,740/year
Job outlook through 2028: 9 percent increase
Chief information security officer

$142,530/year
Job outlook through 2028: 11 percent increase
Warriors in the Workplace
Indiana Tech graduates with this degree have earned jobs at:
Lincoln Financial Group
Fort Wayne Police Department
Walmart Distribution Center
Indiana Tech
Internship Opportunities
Indiana Tech students pursuing this degree have interned with:
Do it Best, Corp.
Ash Brokerage
Parkview Health
Franklin Electric
Ruoff Mortgage
Bosch
Brotherhood Mutual