Recreation Therapy, B.S.
College of Arts and Sciences
Are you service minded? Do you want to help people transform their lives? Does the thought of helping people recover from an illness or injury, alleviate a disability or restore independence appeal to you? If so, a degree in recreational therapy can pave the way to the rewarding, people-focused career you are looking for.
From the start, our curriculum will train you to be client-focused while you learn to help persons with physical, cognitive and psychological disabilities set and achieve goals in their personal development. Patients accomplish this through many techniques such as creative play, adaptive sports, the use of animals, art, music, exercise, aquatics and interacting with others in social settings. In addition to the recreation therapy courses, you will receive a background in psychology, human movement and human service fields where you will learn to assess and evaluate clients and create treatment plans. These skills can be valuable in a variety of social service fields in addition to recreation therapy.
Why choose Indiana Tech?
Our program meets all the requirements to prepare you for the national certification exam to become a Certified Therapeutic Recreation Specialist (CTRS).
You will be part of a culture of teamwork between students, advisors and teachers who share the common goal of your personal success.
You will be required to complete two internships, but you will have so many more opportunities to gain enriching real-life field experience.
You will have the opportunity to attend conferences that will put you in direct touch with practicing recreation therapists while strengthening your relationship with your instructors and classmates.
Indiana Tech fosters an active learning environment, enriched by instructors who possess years of experience in their respective field
Careers in this Degree
Graduates with this degree have pursued careers in the following fields:
Government
Hospitals
Ambulatory health care
Social assistance
Nursing care/Assisted living
Job Outlook
Below are some of the potential career opportunities available to graduates with this degree. Additionally, you will find national statistics for average annual salaries and projected job growth, as identified by BLS.gov statistics. Salaries can vary based on the market in which you live and the prior experience you bring to the position.
Recreational therapist

$47,680/year
Job outlook through 2026: 7 percent increase
Warriors in the Workplace
Indiana Tech graduates with this degree have earned jobs at:
Meaningful Day Services
Ferraro Behavioral Services
North Node Wellness
Camp Red Cedar
Flow
Turnstone
Pure Abilities
Anthony Wayne Service
Internship Opportunities
Indiana Tech students pursuing this degree have interned with:
Easter Seals, ARC
Athletes With Purpose
Bradford Woods Recreation Department
Camp Red Cedar
The Plex-Fort Wayne
Pure Abilities
Leisure 4 Life
Anthony Wayne Services
North Node Wellnes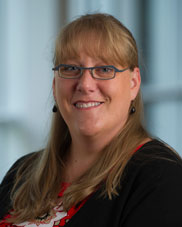 Beth Robinson
Program Lead
Professor Robinson has years of experience working with a wide variety of clientele. She worked at a nonprofit in Washington, D.C., helping in a free medical clinic that served the homeless. She was a child abuse investigator for the state of Missouri. She has supervised a group home for individuals with intellectual and psychological disabilities. And she has worked in a day treatment center for adults with developmental disabilities. Professor Robinson is a member of the American Therapeutic Recreation Association and the Recreation Therapists of Indiana, and was a former member of its board. She has had her Certification in Recreation Therapy (CTRS) for 18 years.
M.A., Physical Education and Recreation, Therapeutic Recreation University of Nebraska at Omaha
B.S., Government Northwest Missouri State University