Electrical Engineering, B.S.
Talwar College of Engineering and Computer Sciences
Electrical engineers are skilled professionals who work in rapidly evolving careers related to electricity, electronics, hardware and software. Throughout history, they have played an immeasurable role in conceiving devices and technologies that we depend on every day; from battery chargers, to cellphones, to electrical systems in cars, to developing controls for food processing plants and more.
If you have a strong foundation in mathematics and science, a degree in electrical engineering could lead you to a rewarding career. You will take courses in circuit analysis, electronics, digital systems, programmable logic controllers, LabView and data acquisition systems, electromagnetics, electrical machines, controls, embedded systems and communications. Computer-based simulations and project-based laboratories will reinforce the course topics. When you graduate you will be able to pursue a job in a wide variety of electrical engineering fields. Our graduates get jobs all over the country.
Why choose Indiana Tech?
Our electrical engineering program is accredited by the Engineering Accreditation Commission of ABET, https://www.abet.org.
We consult with engineering companies to develop and maintain relevant coursework that will equip you with knowledge and experience that today's employers are looking for.
Our laboratory courses are project-based. By the end of a lab course, you will design, simulate, build and test a functional circuit that you can keep.
Our laboratories are equipped with the state-of-the-art equipment. In addition to traditional circuits, electronics, digital and communications labs, we feature contemporary and relevant labs such as a computer interfaced electrical machines training lab, the Rockwell automation portable programmable logic controller troubleshooting lab and a LABView/DAQ (data acquisition system) lab.
Indiana Tech fosters an active learning environment, enriched by instructors who possess years of experience in their respective fields.
Electrical Machines/Transformers and Control Lab
This lab is equipped with various types of state-of-the-art, computer-interfaced AC and DC motors, and single- and three-phase transformers. Using a servo drive and braking system, it is possible to easily simulate the performance of various motors (e.g., fans, pumps, compressors, flywheels) under different industrial loads.
Programable Logic Controllers Lab (PLC)
This lab is equipped with three Amatrol trainers, which are composed of an Allen-Bradley AB5300 L16 processor, a fault insertion system, and a PanelView Plus compact HMI panel. The trainer has the distinct feature of mimicking practical industrial temperature control application, variable speed drive application, reversing contactor application and stepper motor control application.
LabVIEW and Data Acquisition (DAQ) Lab
This lab is equipped with 10 LabVIEW licenses on 10 different computers, in addition to six LabJack U3-LV DAQ systems. This lab will provide students hands-on-experience in using industry-standard software that is used in 35,000 companies around the world.
PCB Rapid Prototyping Lab with LPKF Circuit Board Milling Machine
Equipped with an S103 LPKF Laser & Electronics benchtop prototyping system, this lab gives students experience in designing electronic circuits and creating printed circuit board (PCB) schematics.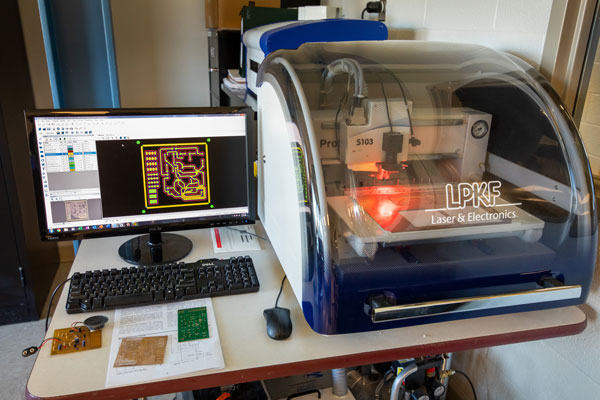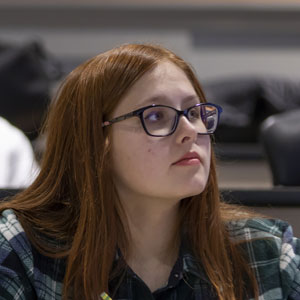 Alexandra Forsythe
B.S. Electrical Engineering, 2022
Alexandra Forsythe had an outstanding college career at Indiana Tech—one that prepared her well for outstanding accomplishments to come. While ...
Read full story
Careers in this Degree
Graduates with this degree have pursued careers in the following fields:
Power generation, transmission and distribution
Electronics and aerospace
Manufacturing of electrical components
Industrial automation and control
Transportation
Telecommunication
Job Outlook
Below are some of the potential career opportunities available to graduates with this degree. Additionally, you will find national statistics for average annual salaries and projected job growth, as identified by BLS.gov statistics. Salaries can vary based on the market in which you live and the prior experience you bring to the position.
Electrical or electronics engineer

$99,070/year
Job outlook, 2018-28: 2 percent increase
Computer hardware engineer

$114,600/year
Job outlook, 2018-28: 6 percent increase
Warriors in the Workplace
Warriors in the workplace Indiana Tech graduates with this degree have earned jobs at:
L3Harris Technologies
Raytheon Technologies
ESPEC
EMCOR Group
Essex
Artisan Electronics
Verizon
Indiana Michigan Power
Swisslog
Ultra Electronics USSI
Crown Equipment
Naval Surface Warfare Center
Internship Opportunities
Indiana Tech students pursuing this degree have interned with:
Indiana Michigan Power
Micromatics
Pyromation, Inc.
American Electric Power
Press-Seal Gaskets
Raffel Systems
Ultra Electronics USSI
EMCOR Group
Crown Equipment
Avancez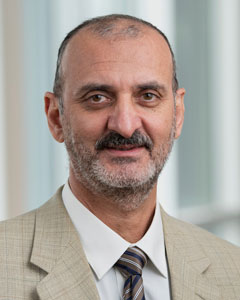 Dr. Zakariya Al-Hamouz
Program Lead
Dr. Al-Hamouz has a long experience in teaching undergraduate and graduate courses as well as supervising master's and doctoral students and senior-level capstone design projects. His research interests include diagnosis of failures in rotating machines, power systems protection and automation and control. He has an extensive collaboration with industry which led to solving many practical engineering problems. His collaboration and research efforts to date have led to seven U.S.-issued patents, the publication of 59 refereed journals and 55 conference papers. Dr. Al-Hamouz is a recipient of the KFUPM Excellence in Research award and the IEEE/IAS James Melcher Prize Paper award.
Ph.D., Electrical Engineering, KFUPM, Dhahran, Saudi Arabia
M.S., Electrical Engineering, Jordan University of Science and Technology, Irbid, Jordan
B.Sc., Electrical Engineering, Yarmouk University, Irbid, Jordan