Business Administration – Marketing, B.S.
Marketing is one of nine concentrations offered in our business administration bachelor's degree program. A degree focused on marketing can lead to a plethora of jobs in many fields, but at its core marketing is about problem solving. Marketing professionals must figure out how to get goods and services to those who most need or want them. They take the guesswork out of promoting and distributing products and services.
The faculty makes the difference
Our faculty has decades of collective experience in the industry and in academia. Many engage in academic research. They create strong relationships with students, inside and outside the classroom, and coach them into achieving success.
We engage in our students' lives and their success through monthly relationship-building events, faculty-sponsored field trips and learning events off-campus, Leadership Week in the spring of each year, and in the way each faculty member knows students individually and personally.
Related career fields
Graduates in the marketing concentration may become:
Public relations professionals
Ad agency account executives
Online marketing specialists
Digital strategists
A Tech success story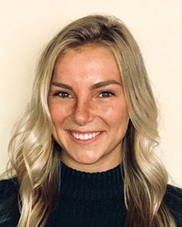 Marina Steffke
B.S., Business Administration-Marketing, 2019

Through Indiana Tech's community relationship with Fort Wayne's Three Rivers Distilling Company distillery and restaurant, Marina was able to apply for and earn an internship during the summer of 2018. She gained a wealth of invaluable experience and helped the rising establishment improve its profile in the community.
Her primary responsibilities included assessing the company's website and facilitating changes to a new and improved site, bolstering the company's social media presence and engagement, creating marketing materials to promote the tasting room and distribution sales and developing new customer relationships.
Marina attributes her meaningful internship experience to the educational experience she is receiving at Indiana Tech.
"The marketing program at Tech taught me how to work collaboratively with others and gave me the interpersonal skills needed to work in a team-based environment," Marina said. "Both skills are important in today's job market, and I think Dr. Lugar Brettin's classes specifically helped in this area."
Earning this degree
College of Professional Studies
This is for adult students who are interested in taking evening or weekend classes at an accelerated pace.
---
Admissions
Apply
Course Curriculum