Accounting, B.S.
The bachelor's degree in accounting is a rigorous yet engaging curriculum led by Certified Public Accountants (CPAs) with both public and private sector experience who stay up-to-date on the latest policies and regulations. For those who love numbers, this is a welcome challenge. Indiana Tech's accounting program will refine your problem-solving skills and develop your understanding of the ethical and professional standards of modern accounting.
Meeting people and crunching numbers
Accountants have a demanding job—they must be able to dig into complicated financial statements, create strategies for fiscal strength, and meet clients to earn their trust. Indiana Tech builds a strong foundation in each of these areas. Instructors with real-world relationships can provide hands-on learning opportunities and supplement classroom learning with one-on-one interactions with students.
Career opportunities
Graduates with a bachelor's degree in accounting will find success in positions such as:
Financial accountant
Auditor
Tax accountant
Not-for-profit accountant
Governmental accountant
Corporate accountant
Managerial accountant
Small business accountant
Graduates also have the opportunity to pursue an Indiana Tech MBA with an accounting concentration, which will prepare them to sit for the CPA exam. Qualified students may get a head start on the MBA through our 4+1 MBA program.
A Tech success story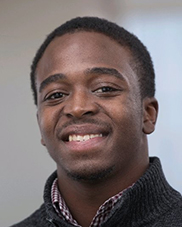 Rashaam Hill
B.S., Accounting, 2018

Rashaam is a full-time staff accountant with the Ward Corporation in Fort Wayne, Indiana. While at Indiana Tech, he took advantage of all the resources he could in order to be ready for life after graduation.
"Indiana Tech does a great job preparing you for your career by giving you multiple ways to develop your skills that you will need in the job world," he said. "From mock interviews to career fairs, Indiana Tech's Career Center does a fantastic job of getting students the necessary exposure to employers."
In the end, Rashaam was thankful for the staff who helped him along the way.
"At Indiana Tech, the staff really cares to develop a positive relationship with students, and that makes it a very special place to be a part of," he said. "My accounting professors were all mentors to me and I took great pleasure coming to class and learning, thanks to them."
Earning this degree
Traditional
Undergraduate
This is for students who want a traditional, on-campus college experience.
Accelerated Learning
This degree is included in our 3 to Degree program, where students can earn their degree in just six semesters.
---
Admissions
Apply
Course Curriculum
College of Professional Studies
This is for adult students who are interested in taking evening or weekend classes at an accelerated pace.
---
Admissions
Apply
Course Curriculum