Mechatronics and Robotics Engineering, B.S.
Talwar College of Engineering and Computer Sciences
Indiana Tech's Bachelor of Science in Mechatronics and Robotics Engineering integrates mechanical, electrical and computer engineering in the design of products and manufacturing processes. Mechatronics and robotics engineering revolves around the design, construction and operation of automated and robotics systems, which result from the integration of software and hardware. As automation and autonomous machines become increasingly important in our society, so does the need for professionals who are proficient in this discipline. As such, mechatronic and robotics engineers are needed in a wide range of fields including manufacturing, construction, aerospace and telecommunications.
Why choose Indiana Tech?
You will be sought after by leaders of industry to solve technical challenges. You will be well-skilled in the hands-on application of robotics technology, which is prevalent in a wide range of industries.
You will become an ethical member of this profession—one who can work effectively in collaborative environments and are prepared to step into leadership roles.
You will continue intellectual and professional development by engaging in various forms of lifelong learning through advanced degrees and specialized training.
Northeast Indiana, Indiana Tech's home, has a growing need for mechatronics professionals, according a 2021 university study. Of 19 regional employers surveyed for the study, 84 percent anticipate hiring between one and 15 mechatronics professionals over the next five years, while eleven percent will hire between 15 and 50.
Indiana Tech fosters an active learning environment, enriched by instructors who possess years of experience in their respective fields.
Career Outlook
A B.S. in Mechatronics and Robotics Engineering from Indiana Tech prepares you for a wide variety of in-demand careers. Below, you can explore career fields, salary information and employer demand from our partners at Lightcast, the leading labor market and career data provider in the U.S.
Job Outlook
Below are potential career opportunities available to graduates with this degree. BLS.gov statistics for national average annual salaries and projected job growth are included when available. Note: Salaries can vary based on one's home market and prior experience. Some career opportunities listed may require additional education or certification. For clarification, consult your academic advisor.
Industrial engineer

$88,950/year
Job outlook through 2030: 14 percent increase
Electrical/electronic engineering technologist/technician

$67,550/year
Job outlook through 2030: 2 percent increase
Electro-mechanical/mechatronic technologist/technician

$59,800/year
Industrial machinery mechanic/machinery maintenance workers

$54,920/year
Job outlook through 2030: 19 percent increase
Internship Opportunities
Indiana Tech strives to prepare career-ready graduates. To accomplish that, our university works with students to stress the value of internships and pair them with real-world learning opportunities that will put them in an advantageous position when it's time to enter the job market.
Additionally, many significant manufacturing companies call Northeast Indiana home and have expressed to regional instutitions the need for adequately trained professionals to fill their human resource needs. As such, Indiana Tech will work with those companies (listed below) and others like them to create impactful internship opportunities for our mechatronic and robotics engineering students.
General Motors
Zimmer Biomet
Steel Dynamics
BAE Systems
BF Goodrich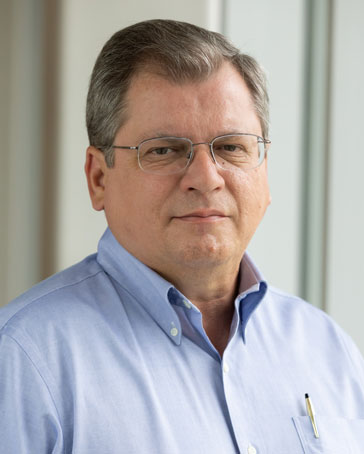 Dr. Mauricio Torres
Program Lead
Dr. Torres' experience includes more than 35 years in industry and business, with an emphasis on product development, manufacturing processes, cost analysis and mechanical design.
Ph.D. Industrial & Systems Engineering, Florida International University
M.S. Engineering Management, Florida International University
Faculty Profile