Information Systems, B.S.
Talwar College of Engineering and Computer Sciences
The study of Information Systems (IS) involves the effective design, delivery and use of information and communications technologies to solve problems for companies, governments, and society. The IS major is an overlap of computer science, information technology and business. It is ideal for students who have interest in these areas and want to make a positive impact across society.
You will have hands-on opportunities and work on real-world projects. You will learn the latest in cloud computing, systems analysis and design, human-computer interaction, web development, mobile app development, databases, marketing, e-commerce, management and other exciting courses. This approach will help you become a wellrounded information systems professional.
Why Choose Indiana Tech?
Our information systems program will teach you not just about technology, but how to strategize for its use in an organization, how to collaborate and implement and how to assess results.
You will learn how to work effectively and communicate with nontechnology individuals and areas of organizations.
Opportunities for industry internships will help you develop career skills, experience and contacts for career placement after graduation.
Indiana Tech fosters an active learning environment, enriched by instructors who possess years of experience in their respective fields.
Career Outlook
A B.S. in Information Systems from Indiana Tech prepares you for a wide variety of in-demand careers. Below, you can explore career fields, salary information and employer demand from our partners at Lightcast, the leading labor market and career data provider in the U.S.
Job Outlook
Below are some of the potential career opportunities available to graduates with this degree. Additionally, you will find national statistics for average annual salaries and projected job growth, as identified by BLS.gov statistics. Salaries can vary based on the market in which you live and the prior experience you bring to the position.
Network administrator

$82,050/year
Job outlook through 2028: 5 percent increase
Computer programmer

$84,280/year
Job outlook through 2028: 7 percent decrease
Database administrator

$90,070/year
Job outlook through 2028: 9 percent increase
Software developer

$105,590/year
Job outlook through 2028: 21 percent increase
Information systems manager

$142,530/year
Job outlook through 2028: 11 percent increase
Warriors in the Workplace
Indiana Tech graduates with this degree have earned jobs at:
East Allen County Schools
AT&T
Lincoln Financial Group
Anthem
Microsoft
Internship Opportunities
Indiana Tech students pursuing this degree have interned with:
MorphoTrust
Brotherhood Mutual Insurance
TND Technology Group Inc.
First Assembly of God
Huntington County Community School Corporation
Glenbrook Hyundai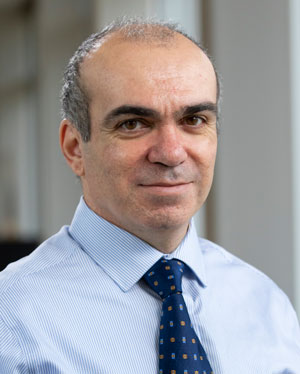 Dr. Stephanos Mavromoustakos
Program Lead
Dr. Mavromoustakos' academic, research and professional expertise is on web engineering, humancomputer interaction, and information security. He has more than 25 years of experience as a professor, consultant, analyst, programmer, project manager and CEO. Most recently, he taught undergraduate- and graduate-level computer science courses at the University of Windsor in Ontario, Canada. He currently serves on the Board of many organizations and scientific committees.
Ph.D., Computer Science, University of Cyprus
M.I.B.A., International Business, Nova Southeastern University
M.S., Computer Information Systems, Nova Southeastern University
B.S., Computer Information Systems, Nova Southeastern University
Faculty Profile