Electrical Engineering Technology, A.S.
Talwar College of Engineering and Computer Sciences
The Associate degree in Electrical Engineering Technology from Indiana Tech prepares graduates for a successful career as an electrical, electronic or engineering technician. Studies in mathematics and science are coupled with courses focusing on the analysis, building and testing of circuits. Areas of focus include analog and digital circuits, programmable logic controllers (PLCs), electrical machines and electronic instrumentation. Students engage with these focus areas in classes and in laboratory settings, which provide them with both theoretical knowledge and hands-on experience.
All courses for this degree can be completed online, including the labs. Students will receive a kit to conduct all labs at home, on their own time. The kit includes measurement equipment, components and other tools that students will be able to keep and use upon completion of their degree.
Coursework in the Electrical Engineering Technology program also includes an emphasis on technical and lab report writing, as employers view communication skills as an essential part of the technician's role in a work setting. Another unique aspect of this program are the optional, in-person immersion events at Indiana Tech's main campus. The experiences will enable attendees to network with fellow students and professors, work with Career Services, utilize equipment in Indiana Tech's engineering labs, participate in team projects and more.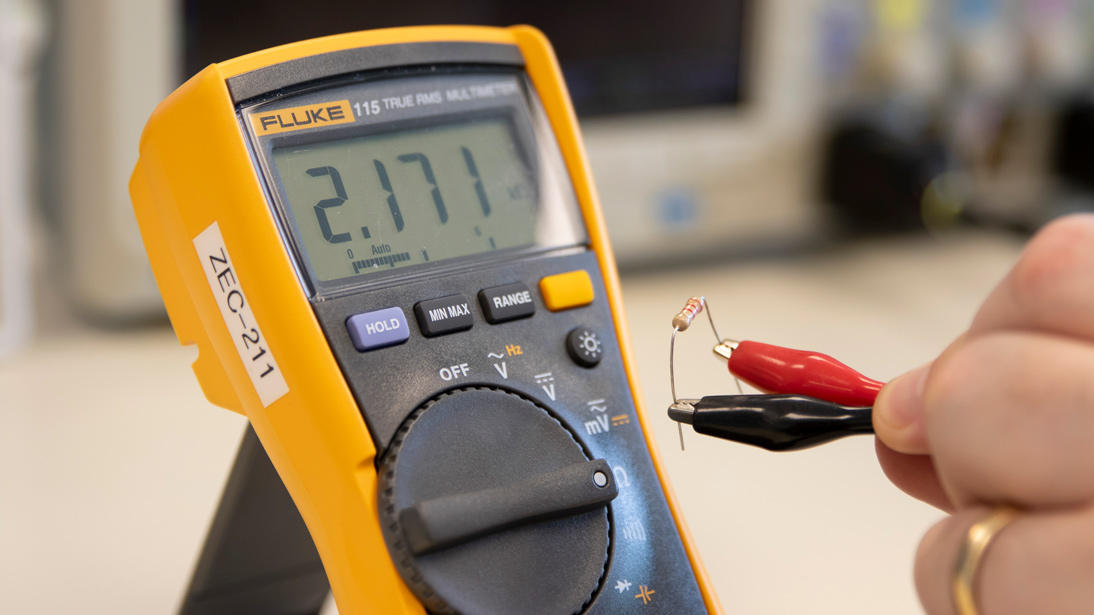 Program Educational Objectives
Our graduates:
Demonstrate the scientific, engineering, and technical skill necessary to pursue a career as an electrical, electronic, or engineering technician.
Apply techniques in building, testing, operation, and maintenance of electronic/computer systems.
Demonstrate communications skills necessary to function effectively as a member of a team.
Student Learning Outcomes
Graduates of our program are ready to work in a variety of roles, including the testing of electrical systems, maintenance of electrical systems, support of manufacturing processes and installation of electrical systems. Upon completion of the Associate of Science in Electrical Engineering Technology students will be able to demonstrate:
an ability to apply knowledge, techniques, skills and modern tools of mathematics, science, engineering, and technology to solve well-defined engineering problems appropriate to the discipline.
an ability to design solutions for well-defined technical problems and assist with the engineering design of systems, components, or processes appropriate to the discipline.
an ability to apply written, oral, and graphical communication in well-defined technical and non-technical environments; and an ability to identify and use appropriate technical literature
an ability to conduct standard tests, measurements, and experiments and to analyze and interpret the results; and
an ability to function effectively as a member of a technical team.
Career/Salary Opportunities
The most recent Bureau of Labor Statistics information shows the national median salary for a technician with an associate degree in electrical engineering technology was $30.91/hour, or an annual salary of $64,000.
Companies across the country hire A.S. Electrical Engineering Technology graduates, including those in the information technology, electronics, advanced manufacturing and automotive industries.
Did You Know?
Indiana Tech is a non-profit university founded in 1930, and is fully accredited by the Higher Learning Commission, the largest regional accreditor of degree granting, post-secondary educational institutions in the United States.
The biomedical, electrical and mechanical engineering degree programs are accredited by the Engineering Accreditation Commission of ABET, https://www.abet.org.
Career Outlook
An A.S. in Electrical Engineering Technology from Indiana Tech prepares you for a wide variety of in-demand careers. Below, you can explore career fields, salary information and employer demand from our partners at Lightcast, the leading labor market and career data provider in the U.S.