Computer Science, B.S.
Talwar College of Engineering and Computer Sciences
For students interested in computer science, Indiana Tech offers two options: a bachelor of arts and a bachelor of science. Both programs provide a broad background in the field of computer science, with extensive work in program development, data structures and algorithms, operating systems, computer system architecture, network architecture, theory of computation, software engineering and programming language design.
The bachelor of science option will focus on software design and development, computational math and networking. Your coursework will be steeped in mathematics and science. The degree will prepare you to design and create software to meet a variety of needs.
Why choose Indiana Tech?
You will take on software projects of increasing sophistication as you progress through your coursework.
An abundance of opportunities to explore and learn outside the classroom will be available to you, including participation with the Cyber Warriors, Indiana Tech's cybersecurity team; the Math Club; or our chapters of the Association for Computing Machinery (ACM) or the Institute of Electrical and Electronics Engineers (IEEE).
An optional and informal one-hour class is held weekly to help students reinforce concepts learned in the classroom.
Indiana Tech fosters an active learning environment, enriched by instructors who possess years of experience in their respective fields.
Career Outlook
A B.S. in Computer Science from Indiana Tech prepares you for a wide variety of in-demand careers. Below, you can explore career fields, salary information and employer demand from our partners at Lightcast, the leading labor market and career data provider in the U.S.
Job Outlook
Below are some of the potential career opportunities available to graduates with this degree. Additionally, you will find national statistics for average annual salaries and projected job growth, as identified by BLS.gov statistics. Salaries can vary based on the market in which you live and the prior experience you bring to the position.
Software developer

$105,590/year
Job outlook through 2028: 21 percent increase
Computer programmer

$84,280/year
Job outlook through 2028: 7 percent decrease
Database administrator

$90,070/year
Job outlook through 2028: 9 percent increase
Web developer

$69,430/year
Job outlook through 2028: 13 percent increase
Computer network architect

$109,020/year
Job outlook through 2028: 5 percent increase
Warriors in the Workplace
Indiana Tech graduates with this degree have earned jobs at:
Aptera
Idemia
Emerson Commercial and Residential Solutions
Do it Best Corp.
Internship Opportunities
Internship opportunities Indiana Tech students pursuing this degree have interned with:
American Electric Power
B.F. Goodrich
Vera Bradley
DTE Energy
Ottenweller Contracting
Emerson Commercial
Steel Dynamics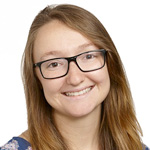 Hannah Wendel
B.S. Computer Science, 2018
Success Story
When Hannah graduated in 2018 with a bachelor's degree in computer science, she already had a world of experience to give her a step up into the workforce. Hannah, a software developer at Fort Wayne's Aptera, Inc., had a professor who nudged her towa…