Criminal Justice, B.S.
College of Arts and Sciences
As an Indiana Tech's criminal justice major, you will learn about the various systems and institutions responsible for enforcing laws, maintaining social order and protecting the rights of citizens. Your curriculum will focus on the history of criminal justice in the United States, policing, the court system and corrections, the psychology of crime and how law enforcement attempts to prevent it, theories and practices related to criminal justice and the philosophy of criminal punishment. You will learn how to think critically, solve problems, make sound decisions and communicate with diverse populations, which will enable you to be a transformative leader in your community.
Why Choose Indiana Tech?
Our program is well-respected and has strong connections with criminal justice professionals in the region, which helps our students build a network that will help ready them for the next stages of their career.
Our diverse close-knit student community is engaged in public service and social justice initiatives. Our students thrive on challenging educational experiences and expect to become leaders and positive change agents as graduates.
Indiana Tech is a recognized leader in educating for justice and committed to the advancement of just societies.
Students will be able to select from numerous core and elective classes to build a specialization in policing/corrections, juvenile justice, understanding criminal behavior, crime scene investigation, criminal profiling and other related segments of the field.
Indiana Tech fosters an active learning environment, enriched by instructors who possess years of experience in their respective fields.
What You Can Do With This Degree
Below are potential career opportunities available to graduates with this degree. Some opportunities listed may require additional education or certification. Consult your academic advisor for clarification.
Police officer or detective
Probation officer
Correctional officer
Conservation officer
Career Outlook
A B.S. in Criminal Justice from Indiana Tech prepares you for a wide variety of in-demand careers. Below, you can explore career fields, salary information and employer demand from our partners at Lightcast, the leading labor market and career data provider in the U.S.
Warriors in the Workplace
Graduates with this degree have earned jobs at:
Fort Wayne Police Department
Federal Bureau of Investigation
Indiana State Police
Department of Natural Resources
Internship Opportunities
Indiana Tech students pursuing this degree have interned with:
Allen County Community Corrections
Allen County Adult and Juvenile Probation
Indiana State Police
Various municipal law enforcement agencies in the region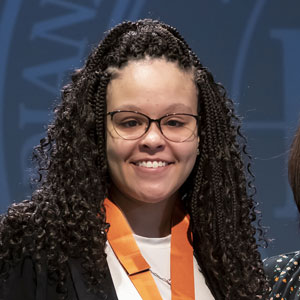 Kayla Bivens
Criminal Justice B.S., 2022
Success Story
Indiana Tech strives to prepare career-ready graduates by pairing students with real-world learning opportunities that will serve them well when it's time to enter the job market. It proved to be a winning formula for Kayla Bivens, Indiana Tech's 20…