Biology, B.S.
College of Arts and Sciences
With a focus on molecular environmental biology, our Bachelor of Science in Biology will provide you with skills and experience that can be immediately applied to the workforce or to continued training and graduate-level study, including medical school or veterinary school. In this program, you can expect to learn by doing and experiencing. You will literally get your hands dirty to solve problems and accomplish learning objectives.
Your curriculum includes a unique combination of biology, chemistry, physics, math and social sciences coursework, supplemented with science communication, leadership and professional development opportunities. Mastery in biology begins with the skills you develop in the first courses you take; you begin immediately to practice protocols, to run experiments, and to drive your own laboratory findings. Your learning does not stop at the content, however, because we know that leadership is developed over time. In order to help you become your best self, our learning outcomes in every course include professionalism, self-awareness and respect.
Why choose Indiana Tech?
You will receive inquiry-based learning through hands-on fieldwork in the environment.
State-of-the-art skills and problem-driven experiences will be practiced in each course, lab and field assignment.
Extensive networking opportunities with professionals, whose experience includes soil science, urban biomes and wetlands and all areas of biomedicine, will be available to you.
Indiana Tech fosters an active learning environment, enriched by instructors who possess years of experience in their respective fields.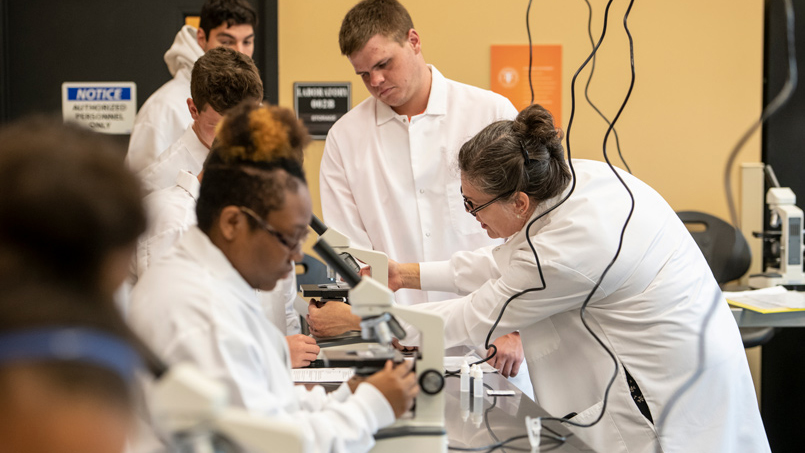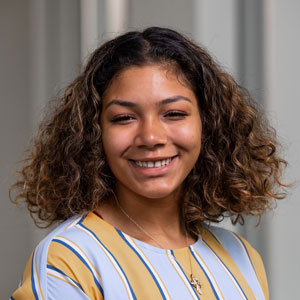 Cherokee Bodell
B.S. Biology, 2022
When Cherokee began pursuit of her degree in biology, she admits that she suffered from imposter syndrome and concerns about being able to stay on pa...
Read full story
Careers in this Degree
Graduates with this degree have pursued careers in the following fields:
Research or diagnostic analysis
Conservation
Biotechnology
Public health or policy
Science writing and communication
Job Outlook
Below are some of the potential career opportunities available to graduates with this degree. Additionally, you will find national statistics for average annual salaries and projected job growth, as identified by BLS.gov statistics. Salaries can vary based on the market in which you live and the prior experience you bring to the position.
Conservation scientist and forester

$61,340/year
Job outlook through 2028: 3 percent increase
Environmental scientist

$73,130/year
Job outlook through 2028: 8 percent increase
Agriculture and food scientist

$64,020/year
Job outlook through 2028: 7 percent increase
Biological technician

$44,500/year
Job outlook through 2028: 7 percent increase
Veterinarian technician

$36,260/year
Job outlook through 2028: 15 percent increase
Urban and regional planner*

$73,050/year
Job outlook through 2028: 11 percent increase
Physicians and surgeons*

$208,000/year
Job outlook through 2028: 3 percent decrease
Veterinarian*

$99,250/year
Job outlook through 2028: 17 percent increase
* will require additional education
Internship Opportunities
To help launch this new program, we are working with the following partners, among others, to offer internship opportunities for our students:
Conservation and land use organizations, such as Allen County Department of Environmental Management or Allen County Department of Planning Services
Agricultural and biomedical companies
Foundations for restoration and preservation of local ecology
Fort Wayne Parks and Recreation for horticulture
Public health and public policy organizations, such as Fort Wayne-Allen County Department of Health
Regional universities for biomedical or agricultural research
Government agencies at the city, county, state and federal levels, such as city utilities, surveyors and USDA/NRCS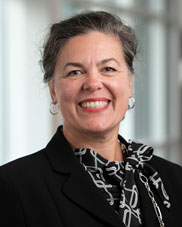 Dr. Julie Davis Good
Program Lead
Professor Good is an experienced educator with a demonstrated history of working in biomedical research settings from academia to the government sector. Her focus is cell and molecular biology.
Postdoctoral Fellowship, Centers for Disease Control and Prevention
Ph.D., Cellular and Molecular Biology, University of Pennsylvania
B.A., Biology, pre-medicine, Hanover College