Accounting, A.S.
College of Business
Smart money management is crucial to a successful business. Accountants must ensure that businesses earn and spend money responsibly and ethically amid a complicated web of federal regulations and procedures. For those who love numbers, this is a welcome challenge. Indiana Tech's accounting program will refine your problem-solving skills and develop your understanding of the ethical and professional standards of modern accounting. Our associate degree in accounting also will prepare you to complete your bachelor's degree in accounting if you choose to do so.
As an accounting student, you'll benefit from faculty who know you by name. Our rigorous accounting program is led by Certified Public Accountants (CPAs) with both public and private sector experience. Our accounting faculty stays up-to-date in the profession as they attend conferences and actively serve on boards and committees in the community.
Career Opportunities
Some career opportunities available to our graduates with an associate degree in accounting are:
Management accounting
Financial services
Auditing
Government and non-profit agencies
Public accounting
Taxation
Career Outlook
An A.S. in Accounting from Indiana Tech prepares you for a wide variety of in-demand careers. Below, you can explore career fields, salary information and employer demand from our partners at Lightcast, the leading labor market and career data provider in the U.S.
Warriors in the Workplace
Indiana Tech graduates with this degree have earned jobs at:
Community Health Network
Do It Best Corp.
Liberty Mutual Insurance
Lincoln Financial Group
Philips
Zimmer Biomet
Internship Opportunities
Indiana Tech students pursuing this degree have interned with:
Allen County War Memorial Coliseum
Asher Agency
Brunswick Boat
Our Sunday Visitor
Steel Dynamics
Zimmer Biomet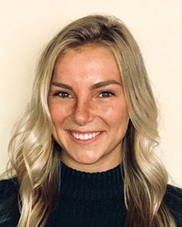 Marina Steffke
B.S. Business Administration-Marketing, 2019
Success Story
Through Indiana Tech's relationship with Fort Wayne's Three Rivers Distilling Company distillery and restaurant, Marina was able to earn an internship during the summer of 2018. It went so well, TRDC extended her invaluable experience beyond it's initial…