Supply Chain Management, Certificate
College of Business
Launch Your Career Into Growth Mode
In today's fast-paced global economy, effective management of the entire supply chain–including procurement, logistics and distribution–has never been more important. Indiana Tech's Supply Chain Management Undergraduate Certificate program provides students with both the theoretical and practical knowledge necessary to operate and analyze successful global supply chains. Students can choose one of two specialty tracks based on their career goals and interests: quality management or analytics.
Student Learning Outcomes
Upon completion of the Supply Chain Management Undergraduate Certificate, you will be prepared to:
Evaluate logistical networks
Assess efficiency and effectiveness of lean systems
Formulate linear and integer programming models with the objective of optimizing supply chain activities
Give and exchange information within meaningful context and with appropriate delivery and interpersonal skills
Career Benefits
Earning a certificate is an affordable, time-efficient way to boost your skills and your career prospects:
Increase your hiring and earning potential
Enhance your skills and expertise
Close the gap on increased job security
Expand your professional network
Make significant progress towards a bachelor's degree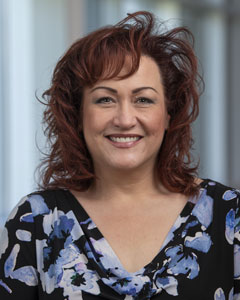 Dr. Margot Salas Geagon
Program Lead
Dr. Geagon is a seasoned academic with a robust background in applied analytics, operations management, strategy, finance and statistics. She brings a project-based learning approach to the classroom and provides students with the opportunity to develop critical thinking skills as they test the assumptions of theory in a real-world environment. The objective of this program is to develop career-ready supply chain management professionals.
Ph.D., Applied Management Decision Sciences: Finance, Walden University
MBA, Finance, Marylhurst University
MPA, Program Evaluation, Portland State University
B.A., Business Administration, Western New Mexico University
Faculty Profile