Computer Science, B.A.
School of Computer Sciences
For students interested in computer science, Indiana Tech offers two options: a bachelor of arts and a bachelor of science. Both programs provide a broad background in the field of computer science, with extensive work in program development, data structures and algorithms, operating systems, computer system architecture, network architecture, theory of computation, software engineering and programming language design.
The bachelor of arts option will require you to take fewer junior- and senior-level mathematics courses, which will give you a pathway to adding a minor to the computer science degree. The degree will prepare you to enter the software development field at the programmer level or work in various technology support roles that require a high level of technical competency.
Why choose Indiana Tech?
You will take on software design and analysis projects of increasing sophistication as you progress through your coursework.
You will gain a broad background in computer science while filling out your education in other fields such as information systems, humanities, social sciences or business.
Indiana Tech fosters an active learning environment, enriched by instructors who possess years of experience in their respective field.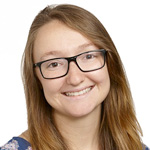 Hannah Wendel
B.S. in Computer Science, 2018
When Hannah graduated in 2018 with a bachelor's degree in computer science, she already had a world of experience to give her a step up into the workforc...
Read full story
Careers in this Degree
What you can do with this degree Graduates with this degree have pursued careers in the following fields:
Engineering
Management
Government intelligence
Design and fine arts
Job Outlook
Below are some of the potential career opportunities available to graduates with this degree. Additionally, you will find national statistics for average annual salaries and projected job growth, as identified by BLS.gov statistics. Salaries can vary based on the market in which you live and the prior experience you bring to the position.
Software developer

$103,650/year
Job outlook through 2026: 24 percent increase
Computer programmer

$82,240/year
Job outlook through 2026: 7 percent decrease
Internship Opportunities
Internship opportunities Indiana Tech students pursuing this degree have interned with:
American Electric Power
B.F. Goodrich
Vera Bradley
DTE Energy
Ottenweller Contracting