Network Engineering, B.S.
Talwar College of Engineering and Computer Sciences
Computer networking is the connecting of two or more computers for the purpose of sharing resources. It can be done between computers in a home, in a business, across a corporation and even internationally. In the global corporate environment, a computer network is the fundamental tool we depend on to get our jobs done. That's why the need for savvy networking professionals has increased exponentially over the past decade.
If you have an interest in computer technology and are skilled at problem-solving and analysis, this could be the ideal degree for you. Our program will give you the breadth and depth necessary for network infrastructure design and implementation. Emphasis is placed on the use of different networking technologies, protocols and paradigms, which includes voice, video and data. As you progress through the program, your learning will be reinforced by networking projects of increasing sophistication.
Why choose Indiana Tech?
You will stay abreast of emerging technologies throughout the program, which will keep you prepared for a variety of career opportunities.
Opportunities for industry internships will help you develop career skills, experience and contacts for career placement after graduation.
You will work in a hands-on dedicated networking lab for in- and out-of-class projects.
You will be able to choose courses from complementary degrees as electives or to achieve a minor.
Indiana Tech fosters an active learning environment, enriched by instructors who possess years of experience in their respective fields.
Career Outlook
A B.S. in Network Engineering from Indiana Tech prepares you for a wide variety of in-demand careers. Below, you can explore career fields, salary information and employer demand from our partners at Lightcast, the leading labor market and career data provider in the U.S.
Job Outlook
Below are some of the potential career opportunities available to graduates with this degree. Additionally, you will find national statistics for average annual salaries and projected job growth, as identified by BLS.gov statistics. Salaries can vary based on the market in which you live and the prior experience you bring to the position.
Computer network architect

$109,020/year
Job outlook through 2028: 5 percent increase
Network and computer systems administrator

$82,050/year
Job outlook through 2028: 5 percent increase
Computer systems analyst

$88,740/year
Job outlook through 2028: 9 percent increase
Warriors in the Workplace
Indiana Tech graduates with this degree have earned jobs at:
Microsoft
Cisco
Brotherhood Mutual Insurance
MorphoTrust USA
Deloitte
Internship Opportunities
Indiana Tech students pursuing this degree have interned with:
Adams County government
Cisco
Hyndman Industrial Products
Network Louisville
Taylor Made Glass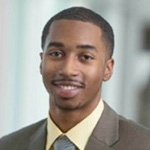 Juwuan Stewart
B.S. Networking, 2018
Success Story
For Juwuan, a web platform engineer at Brotherhood Mutual Insurance, being able to frequent Indiana Tech Career Center events like mock interviews, career fairs and professional dress days, helped him come out of his shell and show off his skills. Wh…