Fitness & Recreation, B.S.
College of Arts and Sciences
Do you have a passion for sports, fitness and recreation? Would you like to serve as role model who inspires others to stay healthy and fit? If these qualities motivate you, perhaps a degree in fitness and recreation could turn your passion into a career.
Fitness and recreation professionals work with individuals, groups and teams to help youth and adults pursue healthy lifestyles. This program is designed to help you build a strong foundation of knowledge in exercise science, recreation, business and social sciences to ensure success in the fitness and recreation business.
Why choose Indiana Tech?
You will fulfill your passion of working in the fitness, recreation and sports industry.
Our degree program will prepare you for a satisfying job working with youth and adults who are pursuing healthy lifestyles.
You will serve as a role model who inspires other to achieve or maintain a fit and healthy life.
You will achieve a human performance minor, as it is embedded within the fitness and recreation major.
Indiana Tech fosters an active learning environment, enriched by instructors who possess years of experience in their respective fields.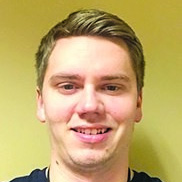 Caleb Schannep
B.S. Fitness & Recreation, 2016
Long before achieving his fitness and recreation degree in 2016, Caleb applied the skills he was learning in his Indiana Tech classrooms out in the Fo...
Read full story
Careers in this Degree
Graduates with this degree have pursued careers in the following fields:
Fitness training
Health club management
Recreation program development/management
Job Outlook
Below are some of the potential career opportunities available to graduates with this degree. Additionally, you will find national statistics for average annual salaries, as identified by 2019 National Park and Recreation Association statistics. Salaries can vary based on the market in which you live and the prior experience you bring to the position.
Park and recreation agency director

$101,450/year
Planning director

$79,262/year
Recreation director

$79,169/year
Park operations director

$74,262/year
Facilities manager

$60,519/year
Athletics supervisor

$55,515/year
Aquatics supervisor

$52,712/year
Warriors in the Workplace
Indiana Tech graduates with this degree have earned jobs at:
YMCA of Greater Fort Wayne
Fort Wayne Parks and Recreation
The Plex, Fort Wayne
World Baseball Academy
Turnstone
Internship Opportunities
Indiana Tech students pursuing this degree have interned with:
YMCA of Greater Fort Wayne
Fort Wayne Parks and Recreation
The Plex, Fort Wayne
World Baseball Academy
Turnstone
Parkview Health & Fitness Centers
Wildwood Racquet Club