Fashion Marketing and Management, B.S.
College of Business
The Fashion Marketing and Management program is open only to students currently enrolled in the program. Enrollment is closed to all new students and all transfer students.
A Bachelor of Science in Fashion Marketing & Management from Indiana Tech will give you comprehensive, industry-relevant knowledge, based on theory and best practices in the fashion industry. That knowledge will come from experienced professors who understand that a strong knowledge and aptitude for communication and traditional marketing underlies this degree. As such, you will gain experience in meeting deadlines, building a quality portfolio, attaining computer skills, learning business principles and understanding workplace psychology.
With a focus on fashion, this diverse program will give you a fun, creative lens through which to study the marketing industry. Not only will you become proficient in fashion history, color and design and global fashion, you will have the opportunity to take courses on topics such as visual merchandising, trend forecasting, textiles and product development.
Why choose Indiana Tech for this program
An integrated 10-course business core will arm you with a great mix of business knowledge in a variety of areas.
Your internship will have you working closely with professionals in the industry.
Our broad range of courses allow you to gain knowledge in multiple areas of the industry, such as event planning, visual merchandising and product development.
You will participate in extracurricular opportunities, such as fashion shows, and connect with industry professionals.
Indiana Tech fosters an active learning environment, enriched by instructors who possess years of experience in their respective fields.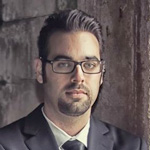 Jonathan Shrout
B.S. in Fashion & Marketing Management, 2017
Johnathan is an allocation analyst with Burlington at its corporate headquarters in Burlington, New Jersey. He makes sure the right products are getti...
Read full story
Careers in this Degree
Graduates with this degree have pursued careers in the following fields:
Merchandise allocations
Visual merchandising coordinator
Event planning
Retail buying
Retail management and training
Styling
Job Outlook
Below are some of the potential career opportunities available to graduates with this degree. Additionally, you will find national statistics for average annual salaries and projected job growth, as identified by BLS.gov statistics. Salaries can vary based on the market in which you live and the prior experience you bring to the position.
Purchasing manager, buyer, purchasing agent

$66,610/year
Job outlook, 2016-26: 3 percent decrease
Fashion designer

$67,420/year
Job outlook, 2016-26: 3 percent increase
Job outlook, 2016-26: 1 percent decrease
Meeting, convention and event planner

$48,290/year
Job outlook, 2016-26: 11 percent increase
Warriors in the Workplace
Indiana Tech graduates with this degree have earned jobs at:
Burlington Stores
Jophiel Boutique
Francesca's
Sophia's Bridal
SCAN Fort Wayne
Matilda Jane Clothing
Internship Opportunities
Indiana Tech students pursuing this degree have interned with:
Lutheran Children's Hospital Gift Shop
CAPEable Sensory Products
Victoria's Secret
Tech Treasures Gift Shop
Louis Vuitton at Nordstrom
Parkview Health
Matilda Jane Clothing