Digital Graphics & Design, B.S.
School of Computer Sciences
Our degree in digital graphics and design with equip you with the latest knowledge and skills in graphic communication to serve a wide range of industries and organizations, including advertising and marketing firms, corporate design departments, publishing companies, web design firms and Internet service companies.
If you have an interest in graphic design that utilizes computer technology, this could be the degree for you. Course emphasis is given to concept development and acquiring the technical skills for visual communication, while also including business, marketing and communication courses, portfolio development and internship opportunities.
Why choose Indiana Tech?
You will learn not just about technology and design, but also how to think strategically about communication, how to solve problems, how to collaborate and implement and how to assess results.
You will learn how to work effectively and communicate with a wide range of audiences and collaborative team members.
Opportunities for industry internships will help you develop career skills, experience and contacts for career placement after graduation.
Indiana Tech fosters an active learning environment, enriched by instructors who possess years of experience in their respective field.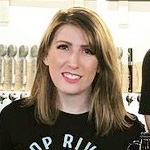 Tessa Wilkins
B.S. in Digital & Graphic Design, 2018
"Tess is a freelance graphic designer who has used her creativity and work ethic to rise to prominence within Indiana's craft brewing industry.Whi..."
Read full story
Careers in this Degree
Graduates with this degree have pursued careers in the following fields:
Marketing and advertising
Web design and development
Journalism and publishing
Job Outlook
Below are some of the potential career opportunities available to graduates with this degree. Additionally, you will find national statistics for average annual salaries and projected job growth, as identified by BLS.gov statistics. Salaries can vary based on the market in which you live and the prior experience you bring to the position.
Graphic designer

$48,700/year
Job outlook through 2026: 4 percent decrease
Web designer

$67,990/year
Job outlook through 2026: 15 percent increase
Multimedia artist, animator

$70,530/year
Job outlook through 2026: 8 percent increase
Public relations specialist

$59,300/year
Job outlook through 2026: 9 percent decrease
Internship Opportunities
Indiana Tech students pursuing this degree have interned with:
Sport Form
Hop River Brewing Company
Circle Logistics Inc.