Success Stories
A marketing brochure will only go so far in showing you how an Indiana Tech education can prepare you well for a successful career. That's why we work hard to stay in touch with our graduates so we can develop their Success Stories. First and foremost, we are proud of our graduates and we love letting the world know about their outstanding accomplishments. Secondly, there is no one better to illustrate the impact of an Indiana Tech degree than one who has walked across our commencement stage and dived headlong into his or her career.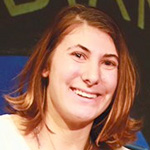 Katelyn Smolucha
2020 Indiana Tech graduate
In October, junior criminal justice major Katelyn Smolucha and associate professor of criminal justice, Dr. Tyler Counsil, presented at the Indiana Academy of the Social Sciences (IASS) annual conference in New Albany, Indiana.
The presentation, "Genealogical Trends in Solving Cold Cases: An Investigation into the Merits and Concerns with Cold Case Lead Development," was derived from Smolucha's article, which she wrote over the summer and submitted to the IASS' peer-reviewed journal. It's currently under review for possible publication. The presentation and manuscript explore the pros and cons of ancestry DNA data-basing with direct-to-consumer DNA products to develop new leads in cases where traditional investigative methods have generated no suspects.
Smolucha currently interns at Allen County Corrections in the Case Manager Division and is president of Indiana Tech's Criminal Justice Society. Recently, she completed an internship with Judge Samuel R. Keirns of the Allen County Superior Court.